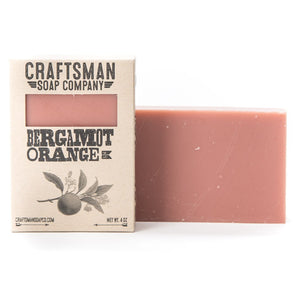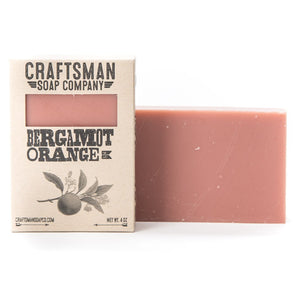 On Sale
Bar Soap, Bergamot Orange
Orange peel and bergamot essential oils have a warm, sweet orange fragrance with a hint of virginian cedar as a fixative base.
Our bar soaps are crafted from quality natural oils & butters to get a deep, nourishing clean and rich lather. Made without the use of harsh chemicals or preservatives, we only employ natural essential oils in all of our fragrances. Using a traditional cold-process method allows our soaps to retain the ingredients' moisturizing glycerin (usually removed in factories to add to more expensive products) - the result is a dangerously good but impossibly simple bar of soap. 

Directions


Use the soap, well, like soap. Use it for your face, use it for your hands. Use it all over! Keeping the bar dry between uses will help it last as long as possible, either on a shower rack, soap dish, or other perforated vessel that allows it to breathe on all sides without accumulating standing water. A wash cloth or loofah will further extend the life of the soap by increasing the efficiency of the lather.
Details
Butters of shea and cocoa give our soaps an unparalleled conditioning quality while creating a harder bar and an extremely creamy, dense lather. Olive oil further contributes to the conditioning properties of the soap, while castor oil improves on the lather by adding volume and stability. Finally, coconut oil gives the bar enough hardness and cleansing power to perform, while balancing with the skin conditioning of the other oils and butters. 
Proudly made in the USA
Ingredients
Coconut Oil, Olive Oil, Shea Butter, Water, Lye, Castor Oil, Cocoa Butter, Fragrance*, Rose Clay, Rosemary Leaf Extract**
*crafted exclusively with essential oils
**an antioxidant that does not contribute to the soap's scent
Net weight 4 oz | 113 grams