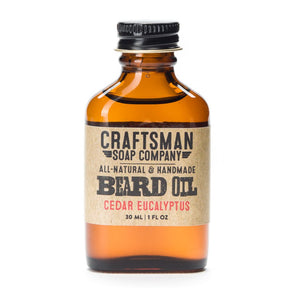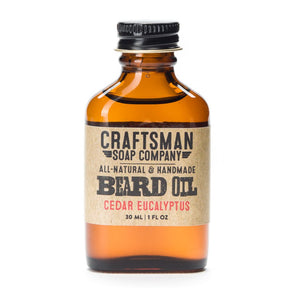 On Sale
Beard Oil, Cedar Eucalyptus
Beard oil is a leave-in conditioner for your beard. Undiluted and full of rich and moisturizing oils like argan and jojoba, a little goes a long way - just a couple drops worked into a long (or short) beard can do wonders. It will make hair softer and feeds the skin underneath - and it smells great too! Available in a one ounce amber apothecary bottle and fragranced with essential oils.
Scent
Cedar Eucalyptus
Our flagship fragrance, it combines geographically distant evergreens, with earthy red cedar, camphorous and sweet blue gum eucalyptus, and bright, slightly spicy notes of cypress from Spain.
Directions
After washing the beard, splash several drops into your palm and massage onto still-dampened face and beard. Use fingers, comb, or brush to work the oil evenly from root to tip. Bottle includes an orifice reducer for judicious use. Always perform a patch test first, may contain allergens for some people. 
Ingredients
Argan Oil, Jojoba Oil, Grape Seed Oil, Rose Hip Fruit Oil, Meadowfoam Seed Oil, Vitamin E Oil, Fragrance
*
*crafted exclusively from essential oils
Details
This blend of natural oils contains both fast-absorbing oils like argan and grape seed to penetrate the skin and keep your face soft and moisturized. It also contains slow-absorbing oils like jojoba and rose hip fruit oil, which will hydrate and protect your hairs and leave the beard with a lustrous sheen. Amount of sheen can be controlled by adjusting the application rate. Bottle includes an orifice reducer for judicious use.
 Contents: 1 fl oz or 30 ml