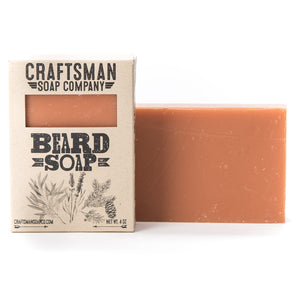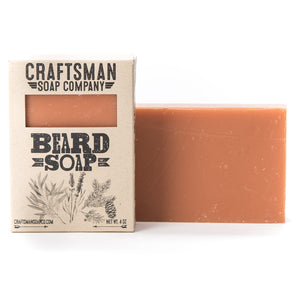 On Sale
Beard Soap, All-Natural Handmade Bar Soap with Tea Tree, Cedar, Lavender & Spruce
With the bright, earthy smell of the forest and a hint of lavender, our beard soap delivers a refreshing start to your beard care regiment. Made from a choice blend of oils, this bar is formulated to build a particularly thick, creamy lather for a thorough beard cleaning that won't leave your beard or face dry. Use this soap to build a lather in your hands or directly against your beard, working it like a shampoo from the roots of your beard to the tip. Natural soap will gently loosen and lift excess oil and dirt without stripping your beard of its natural oils or drying your skin.
This soap, along with all of our other soaps and goods, is made using only naturally-derived scents and colors.
Order placed is for one bar of soap, net weight 4 oz.
Ingredients: Coconut Oil, Castor Oil, Shea Butter, Cocoa Butter, Avocado Oil, Hemp Seed Oil, Jojoba Oil, Rosemary Leaf Extract, Fragrance (crafted exclusively from essential oils including tea tree, lavender, spruce, and virginian cedar)