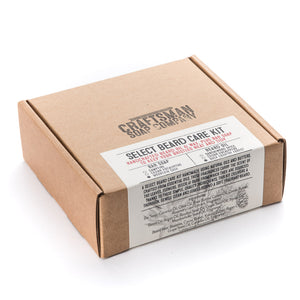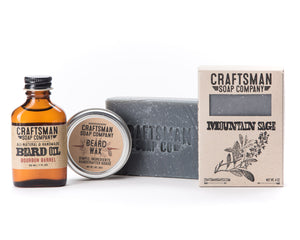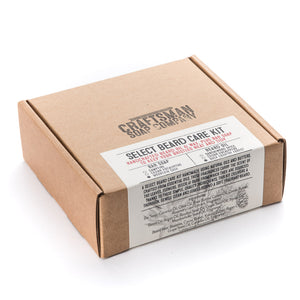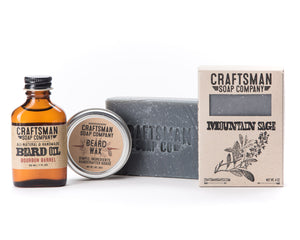 On Sale
Select Beard Care Kit
With just a hint of panache, our Select Beard Care Kit lets you choose from among our most popular fragrances for a care kit that's tailor made and ready to gift to your chosen bearded recipient. Included is one bottle of beard oil and a bar of soap to wash and condition, plus a 1-oz tin of beard wax which helps put stray hairs in their place. Kits include a brand story card and an introductory set of beard care instructions and tips. 
Bar Soap
Made with quality natural oils & butters to create a rich lather and deep clean without the use of harsh chemicals or preservatives, and only natural essential oils are used in all of our fragrances. Using a traditional cold-process method allows our soaps to retain the ingredients' moisturizing glycerin (typically removed in factory processes to be used in other products), resulting in a dangerously good but simple bar of soap.
Cedar Eucalyptus
Another activated bamboo charcoal bar, this soap includes a blended fragrance of virginian cedar and blue gum eucalyptus for a classic, warm & earthy forest scent.
Campfire
This fragrance is
made to deliver the distinctive smell of smoke wisps drifting through the boughs of a forest canopy
. Birch tar, virginian cedar, fir needle, and other essential oils lend this soap a rich, distinct aroma.
Mountain Sage
This fragrance gathers an array of essential oils from sages and rosemary to coriander and citrus to evoke the smell of mountain foothills after a rain. Activated charcoal, sea clay, and indigo give this soap an earthy blue with hues that vary from batch to batch.
Beard Oil
Beard oil is a leave-in conditioner for your beard. Undiluted and full of rich and moisturizing oils like argan and jojoba, a little goes a long way - just a couple drops worked into a long (or short) beard can do wonders. It will make hair softer and feeds the skin underneath - and it smells great too! Available in a one ounce amber apothecary bottle and fragranced with essential oils.
Cedar Eucalyptus
Our flagship fragrance, it combines geographically distant evergreens, with earthy red cedar, camphorous and sweet blue gum eucalyptus, and bright, slightly spicy notes of cypress from Spain.
Sandalwood Spice
Sustainably farmed Australian sandalwood is blended with a complement of herbs, spices, and other aromatics, including oak moss, cardamom, and a hint of vanilla. Warm, woody, and spicy, this is an exotic fragrance without equal.
Back Country Forest
Take a walk through the alpine wilderness with bright conifers like pine, spruce, and fir, with supporting notes of lavender, lemon, and basil to make this fragrance a refreshing call to the wild. 
Beard Wax
Our beard wax is a blend of local beeswax and natural oils and butters that work to wrangle stray hairs and lend a waxy sheen, while still leaving a conditioning and protective coating on the beard. Scrape wax from the tin with the back of your thumbnail, warm between fingertips and apply as needed to control the shape of your beard. Scented with a blend of hair-conditioning essential oils, this wax has a fresh, woodsy scent with citrus, floral, and herbal notes from a array of essential oils.
Ingredients

Beard Oil
Argan Oil, Jojoba Oil, Rose Hip Oil, Grapeseed Oil, Meadowfoam Seed Oil, Fragrance*, Tocopherol

Bar Soap
Coconut Oil, Olive Oil, Shea Butter, Castor Oil, Cocoa Butter, Fragrance*, Rosemary Leaf Extract, Natural Colorants

Beard Wax
Beeswax, Cocoa Butter, Avocado Oil, Kokum Butter, Argan Oil, Grapeseed Oil, Camellia Oil, Fragrance*

*crafted exclusively from essential oils